Climbing to New Heights for MS
MS Focus
The Magazine of the National Multiple Sclerosis Foundation
by Chris Radliffe
Alex Steelsmith, an artist from Hawaii, recently generated over $9,000 in donations for the Multiple Sclerosis Foundation (MSF).
Braving blizzards, wind chill temperatures lower than minus 100 degrees Fahrenheit, and a cracked rib, Steelsmith scaled 20,320 feet to reach the summit of Mount McKinley. "Between the weather conditions and the climbing, there was so much to think about that I didn't realize my rib was cracked. It was uncomfortable, but so was everything else. I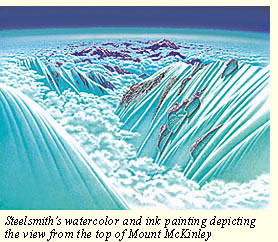 did notice it when I carried a heavy pack," he laughs, adding, "Come to think of it, that was pretty much all the time."
Steelsmith's climb took about three and a half weeks to complete, with views that he describes as "breathtakingly beautiful." This mountain, known locally as Denali (or "The Great One"), towers high above the glaciers and frozen tundra of South Central Alaska. "My plan to raise money for the MSF is two-fold," the artist announced prior to his mountain adventure. "First, I'm gathering as many pledges for the climb as possible. Second, I'll be creating a work of art based on my experience, making prints of the painting, and donating profits from the prints to the MSF."
"The Denali climb and painting will be dedicated to my longtime friend Jean, who lived with an extremely debilitating form of MS for more than a decade, and passed away a year and a half ago," Steelsmith said. "Jean was an inspiration to me. She continued to do charitable work even during the most difficult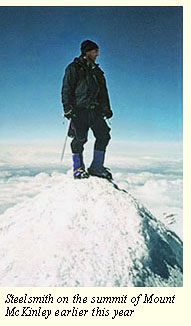 final years of her life. I've met so many people with MS," he adds, "with heroic stories, full of courage and determination."
Painting professionally for a quarter of a century, Steelsmith is renowned for his extraordinary craftsmanship and dazzling use of light. For many years, he worked independently as a personal care attendant, providing hands-on care for people with paraplegic and quadriplegic conditions. Already established as an art teacher, providing art lessons to those with disabilities naturally followed.
For each donation to the MSF of $60 or more, Steelsmith will provide a free limited edition print of his painting. For each donation of $150 or more, he will provide a free limited edition artist's proof, signed and numbered. For any donation to the MSF of $500 or more, he will provide a free limited edition deluxe artist's proof, which he will autograph, number and hand-embellish, further increasing its value for art collectors.
"I'm extremely pleased by the generosity I've received so far," he says. "Donations to the MSF are continuing to come in every day. I hope I'll be able to contribute to the MSF again in the future."
If you would like to join Steelsmith in the battle against MS, please send a check payable to the MS Foundation. Mail to: Steelsmith, 150 Hamakua Drive #800, Kailua, HI 96734.